Caregivers Community Blog
Welcome to the Caregivers Community Blog! I'm Liz de Nesnera and I've been a Family Caregiver since 1994 to both my parents. Come along with me as we share our experiences and hopefully make each other laugh along the way...yeah...and maybe share some tears and vent some too!!
Thursday, September 11, 2008
Tuesday, September 02, 2008
My Worlds Collided Yesterday: RIP Don LaFontaine
Today I feel as if my worlds have collided:
My Voiceover world and my Caregiving world.
Don LaFontaine
, THE premier voice talent, that truly gave a face to our industry, passed away yesterday. If you are not in the VO industry, you probably remember him as "The Movie Trailer" guy who parodied himself on some recent celebrity Geico Insurance TV commercials.
I was lucky enough to have met "The Don" at VOICE 2007 last year, where he spent over an hour answering questions from attendees, all hoping to gain some wisdom from his experience. He then spent another hour...or two...posing for pictures with each and every voice talent that wanted to after his talk...and that was pretty much every talent in the room! He was gracious to everyone and always had a kind and encouraging word to all committed voice talent.
I was lucky enough to meet him in a more intimate setting this past April, at
Joan Baker's
Voices Remember event, to raise money for Alzheimer's research. There I had a chance to have a great conversation with him and
Joe Cipriano
about the fact that there really is no competition in this business. Your sound is either right for the job, or it isn't.
I was also fortunate enough to meet
Nita Whitaker
, Don's beautiful wife, former nurse, his advocate and his caregiver. I was glad to have the opportunity to thank her for all she was dong to support him and his health.
I grieve for the voiceover community who lost its patriarch.
I grieve for the world who lost a truly wonderful human being.
I grieve for his family who lost a husband and a father.
He will be missed.
He will not be forgotten.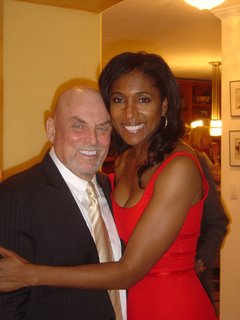 Don LaFontaine & his beautiful wife Nita Whitaker
(April 2008)
Family Caregivers Take a Game Break at Caregiving.com
OK!
This could be fun!
"To help family caregivers take a break without leaving the house,
Caregiving.com
debuted a game break section on its site today.
Game Break
currently features Solitaire, which stars the site's SuperHeroes. A Leader Board tracks the top scores, which reminds family caregivers that, although they play alone, they don't play by themselves. "Family caregivers feel very alone in their experiences. I hope the Leader Board will stir a little healthy competition while showing them that others play, too."
To read more info click
here
.
Now go play! :-)